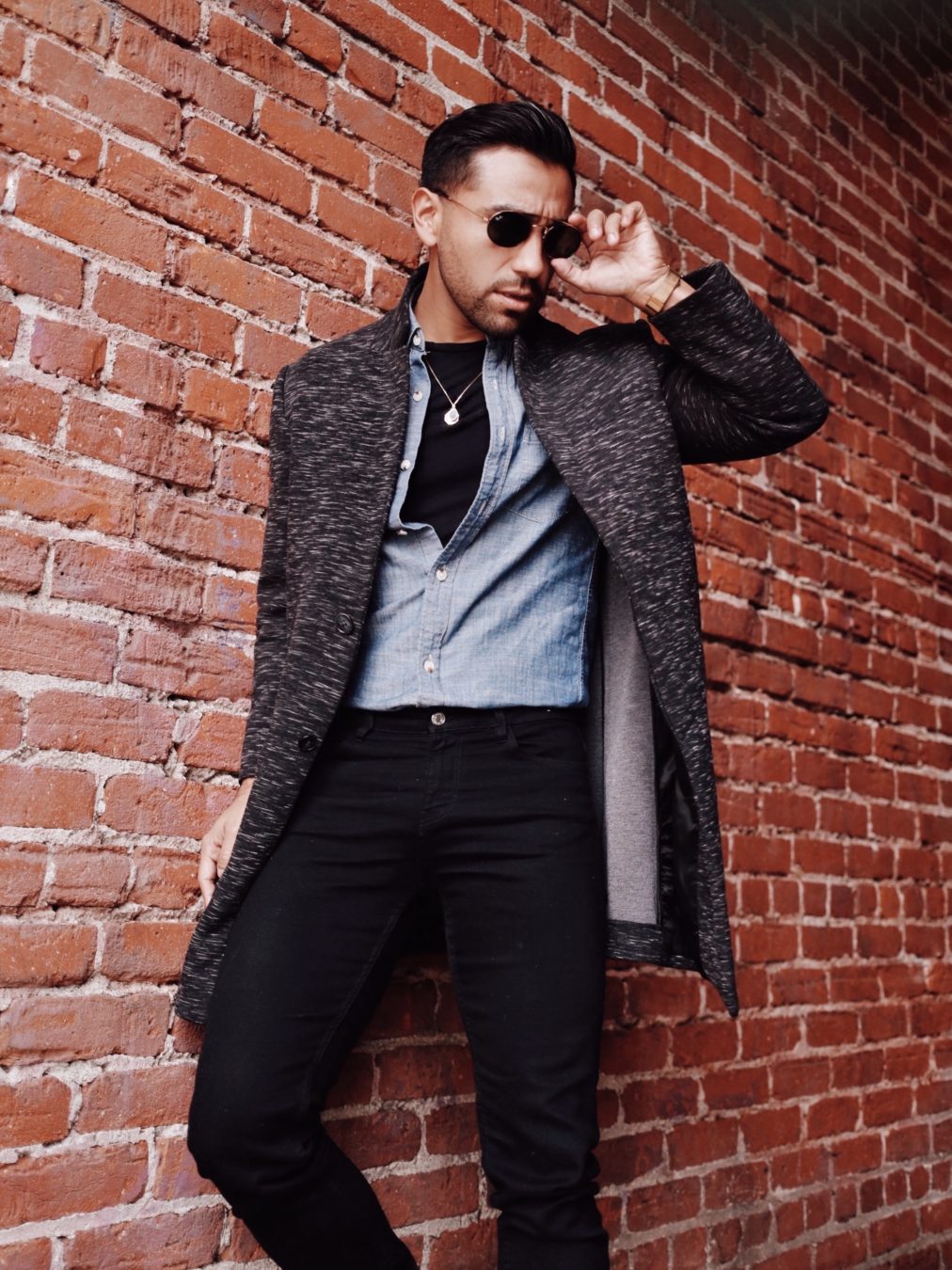 Hey y'all!!! It has been a long minute since I have done one of these but I am baaaack!! As promised, I am going back to my roots and writing about what I am truly passionate about… men's fashion! That being said, lets get right into it with this easy to wear "LA winter" fit.
Since leaving my 9 to 5 gig, my outfits have definitely gotten much more laid back and chill but I am still true to my love for classic clean combos that still show a level of "dressed up' that can easily work in or out of any office through simple tweaks. Now, with this fluctuating winter weather, layers are key. No, I'm not talking snowboard "brrr its freezing" layers… these are city slick layers to keep you warm through the weather while looking cool doing so.
One of my "every man essentials" is the denim shirt and, in this case, it was the main focus for this fit as it started as the base for the rest of the look. The denim shirt is that classic clean piece that works in sooo many ways and pairing it with an all over black fit let's it stand out while adding a bit of pop.
While the weather is still in the cooler side, warm layers are a must. Now, we have seen the resurgence of the button down paired with a tee which is something that had gone away in the early 2000s. Now, the tee makes a great comeback as it adds depth to any fit. I like to wear mine exposed for a hint of streetwear casual but can easily make this fit a bit more "formal" by butting up the denim shirt a few more buttons. The black denim jeans and tee balance out the fit and create a uniform-like feel to this fit which makes it casual clean.
To give the fit the touch of lux, this overcoat is the right touch. when people think of a coat, they think of sophistication and class. Well, that's exactly what you get when you throw it on this fit. It instantly dresses up the fit and adds the right amount of "dressy" to balance the fit. After all, balance is key!
Throw on my go-to (and very worn in) Chelsea boots, some subtle gold details and a pair of classic modern ray bans and you've got a casual layered fit that is multifunctional and all day cool.