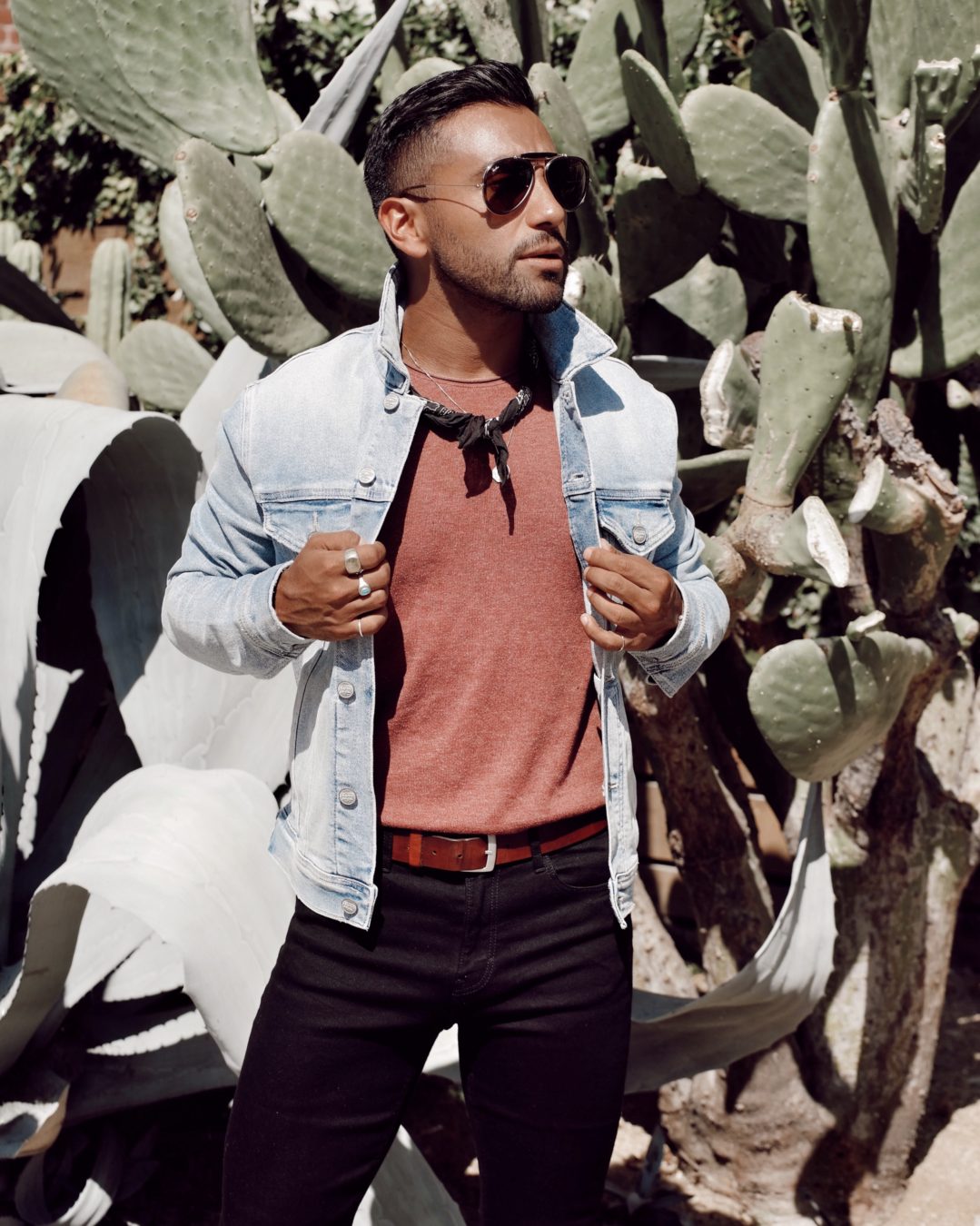 To live in LA is to know that there is a certain time period in the weather between summer and fall that just makes no sense. The mornings are cool, the days are (really) hot and the evenings cool down just as quick as it got hot. I call this LA's "fifth season", pre-fall! Yes, ladies and gents, pre-fall is a thing so I decided to give you all some quick tips on how to pull off the perfect casual fit in this random weather with some staple pieces from Penguin. Penguin is known for their clean-cut, classic Americana in modern cuts perfect for today so pulling this fit together was a doozy.
Now, y'all know Ive really been into classic western fits lately… with my signature bandana being the standout accessory that ties it all together. But, don't fret, fit is everything and to really achieve this vibe I have to make sure all the pieces fit perfectly well. From the denim jacket to my jeans, this "classic western" fit came down to picking the right pieces.
This is why I was hooked on this light washed denim jacket…. not only is the wash a perfect "weather transition" phase, the fit is so good. It fits like a classic western denim jacket should fit, right at the hip, narrow arms and cozy enough to wear it feels more like a heavy shirt instead of a jacket. And, that's exactly what you want in a denim jacket. The perfect fit for a denim jacket is to find one that feels more like a sweater over a t-shirt instead of a baggy coat. You want to be able to button up and have about two to three fingers of room between the jacket and your chest. You want the arms to fall perfectly on your wrist with just a bit of slack with the arm sleeves tight enough to roll up. In terms of shade, this lighter version is great as, not only is it classic, it stands out amongst a sea of all the dark colors in fall.
Now, I know there are hundred and one versions of black denim jeans… but not all jeans are made equally. For this fit (and for everyday life tbh) I like them to fit snug with a slim, tapered fit through the legs and with the right amount of stretch. See, I will argue that black denim jeans are THE NUMBER ONE MUST HAVE piece in every closet so might as well have a pair that will yield the most use for their buck. These were perfect!
Now, for the extra details… I went with a classic yet slim tee in this washed out red color for that continued "broken in vintage" feel I was going for. The classic aviators give it that retro vibe while the small hints of jewelry gives it that modern rockstar feel with a heavier belt for detailing. Of course, my all time favorite boots make an appearance… I've been wearing them for quite some time now and the older (and more beat up) they get, the more I love them.