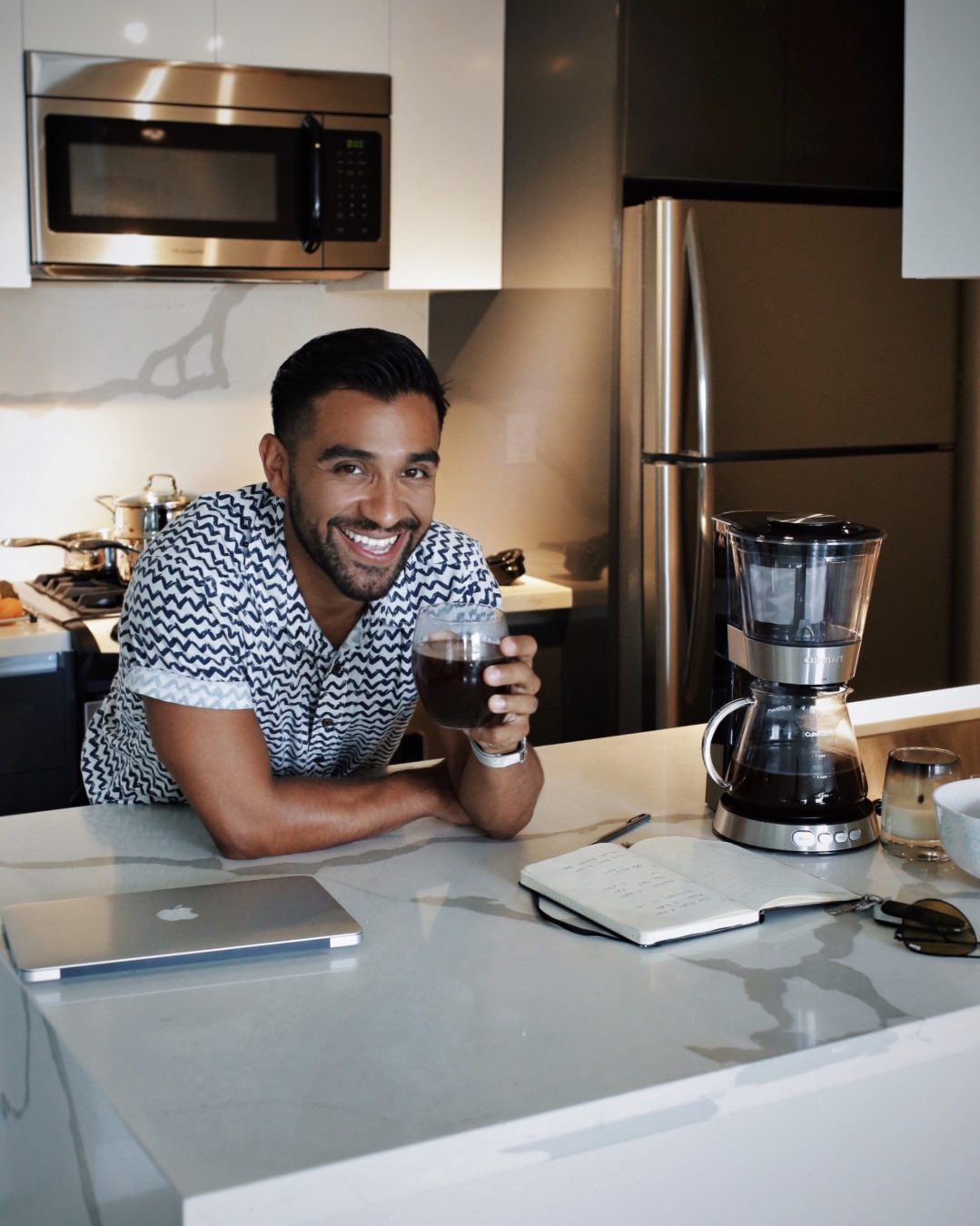 Working from home can take a minute to get used to… luckily, I have gotten into a good morning routine that makes being a freelance menswear blogger that much easier. I am all about making moves that make life easier and free up mental space to create. Now, as you all know, I am a coffee drinker… better yet, a cold brew coffee drinker. So, when Cuisinart reached out to partner up with them on their GENIUS cold brew maker, it was a no-brainer… of course I was on board. All throughout the day, you will catch me sipping on a cold brew and nine out of ten I am walking around with a cup (as you have seen in several of my pictures!) Excited to share what my mornings are like while getting ready for the day.
I am totally a morning person and mornings have always been so important to me…. there is so much that can be accomplished before 9 o'clock hits. Usually, I like to start my day with a cup of iced coffee, break out the laptop to answer emails, go through my journal (yes, I keep an actual physical journal) and check my calendar. Doing this routine in the morning has free'd up so much time throughout the day to focus on other things that may be thrown my way and has cleared up space to focus on taking meetings or creating content, to name a few. But, before all this one thing is for sure… MUS DRINK COFFEE!! Yes, every morning starts with a cup of cold brew. Enter my new favorite kitchen item, the Cuisinart cold brew maker.
Legit, this cold brew maker has changed my mornings. I mean, it makes amazing cold brew in just 25 minutes! This means I have fresh cold brew ready in less amount of time than it would have taken me to get in my car, sit in (glorious) LA traffic and then stand in (another glorious) line to order. Now, I just start up my cold brew maker while I get myself ready for the day ahead. Also, have you ever tried to make conventional cold brew at home?? The wait… yeah, it ain't happening.
Again, I'm all about streamlining my life and make it as easy as possible and the simple steps it takes to get a fresh cold brew cup just makes the mornings that much greater!
This is a sponsored conversation written by me on behalf of Cuisinart. The opinions and text are all mine.