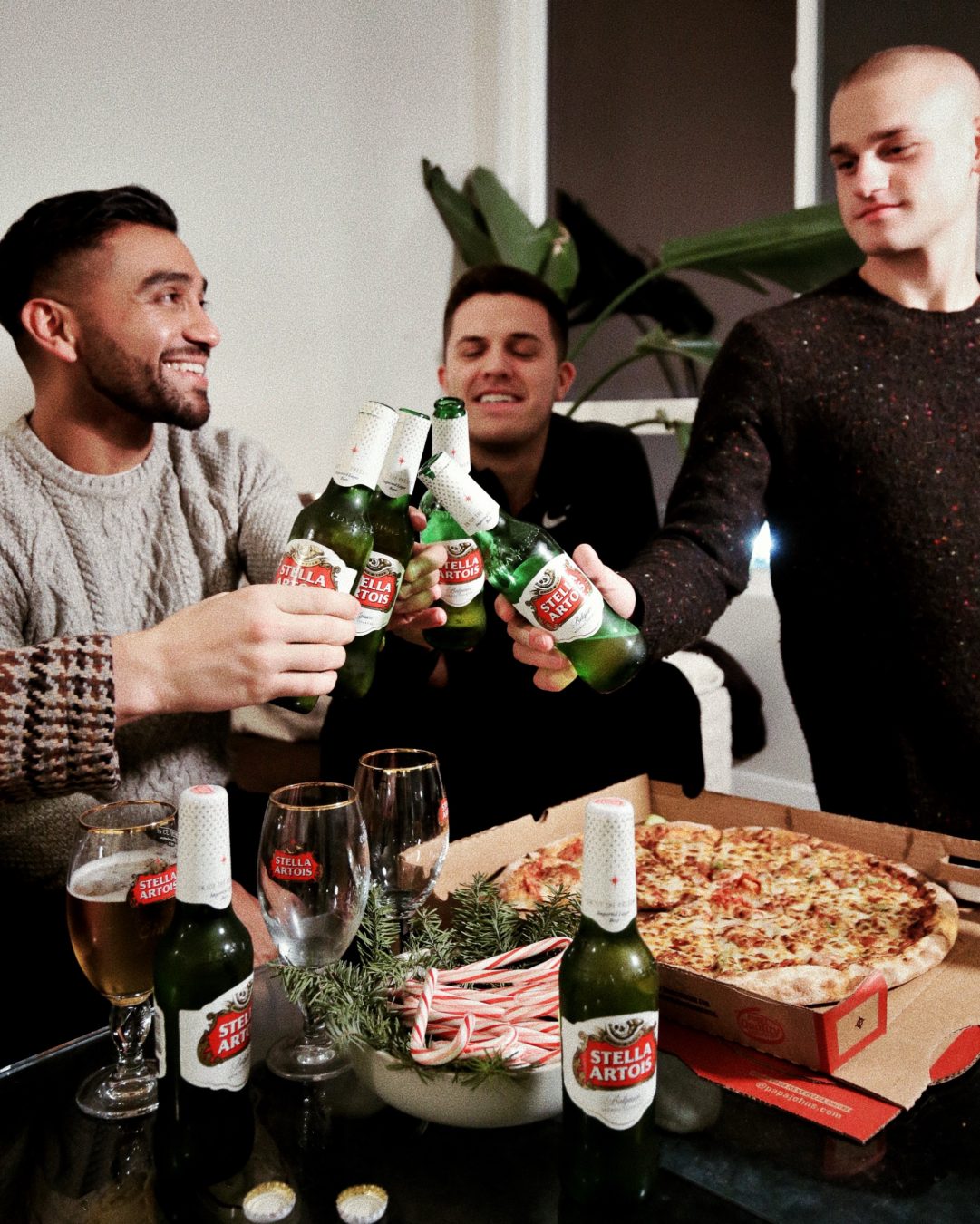 One of my favorite times of the year is the holiday season. It's not for the gifts and the presents…. ok, ok, those are nice… but to be able to get my friends together, relax and share in each other's company. One of my ongoing traditions is the annual "beer, pizza and holiday movie" night and this year was a complete success … especially since we had plenty of Stella Artois. 
I'm a sucker for holiday rom-coms and feel good movies and it's always a treat to be able to hang around the couch with close friends. I love being able to not worry about the stress of last minute Christmas shopping (come on, we all do it!), dressing up for elaborate dinners, or where or what to eat and drink. The beauty of a beer and pizza night is that no one ever says no which takes away any doubt of any of the invites from showing up. I also let them know to keep it extra laid back and chill and come ready to just relax, unwind and enjoy!! As the "host" of this party, it was so easy to prep for this party!! I made sure I chilled some Stella Artois beers and put out their classic (and infamous) chalices so that people can either just sip straight from the bottle or "fancy it up" by pouring in a chalice…. Stellas also pair perfectly with pizza so it's like a no-brainer!! As a special treat, I gifted my best friend the Stella Artois Holiday gift pack! It's the perfect gift as it comes with two chalices and a beautiful corked bottle of Stella! It makes the perfect addition to any bar cart.

I had so much fun laughing it up with some of my best friends and can assure you that this year's "beer, pizza and holiday movie" night was a complete success. There were tears of joy, tears of nostalgia and just a good old time… I mean, non-stop laughs and joy all around!